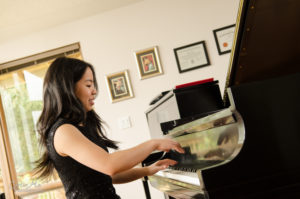 Samantha's piano studio is located in the neighborhood of Kent East Hill. She also travels to teach in-home lessons in Kirkland and surrounding neighborhoods.
Samantha encourages her students to perform often — recent performance venues include Resonance at SOMA Towers in Downtown Bellevue, the Bellevue Crossroads Mall, Juanita Friday Market, and local retirement homes.
Samantha is an active member of MTNA and holds a position on the WSMTA Board of Directors. She currently serves as:
Samantha holds a BA from the University of Washington and an Associate of Music (AM) from Shoreline Community College. When she's not teaching, Samantha enjoys cycling, mountain biking, and playing ultimate frisbee.